In this post I will share:
My goal is to help you improve your productivity and smash out PowerPoint presentations at least 20% faster.
My PowerPoint 4MAT Tool
In my world, PowerPoint and slide decks are the best way to communicate. From project status updates to translating a theoretical business idea into a simple picture that everyone around a table can understand, there is sometimes no better tool than the good ol' slideshow.
It's visual, forces you to simplify an idea and results in alignment much better than a conversation would. Ultimately, we are all looking at the same picture so the chances of you interpreting something incorrectly is significantly reduced – which means less follow-up meetings and more action.
When it comes to crafting slide decks, we often underestimate the importance of making that slide deck as sexy as possible. As I said in my last post, human beings are a superficial bunch and can't help but respond more positively to visuals that are symmetrical, icons that are distributed evenly, and text boxes that are perfectly centre-aligned. It's the way we've been programmed and we just can't help it. I have to admit that after years of being deeply engrossed in the dark arts of PowerPoint, I've become a bit of a "slide snob". My OCD is so bad that you'll probably lose me if there's something misaligned on a slide. I find it hard to concentrate on anything else lol.
Those little things can make all the difference when pitching an idea that you've put hours into and you potentially risk losing a key stakeholder's interest when your presentation shows up looking like a dog's breakfast (as one of my managers once told me).
Have no fear, Fareed is here to save you with his 4MAT tool for PowerPoint.
You can the download 4MAT PowerPoint Tool for free by clicking the icon below:

How it works
I can't take all the credit for 4MAT. It was heavily inspired by a PowerPoint formatting tool that we used during my time at Accenture. As is the norm in Management Consulting, we'd pump out PowerPoint decks on the daily and, in order to make that happen, we had a custom internal toolkit developed called Quick PowerPoint Tool (or QPT for short).
The only problem was that once you'd left Accenture you lost access to these productivity tools. When it was my time to leave the world of Management Consulting and start the next chapter of my career in the real world, QPT was one of the tools I missed almost immediately. I was left with only one option – to create my own version, ultimately leading to the birth of 4MAT.
What it does is pull common PowerPoint formatting tasks (which I use as part of my typical slide creation process) into a single tab on the ribbon. This is super convenient as it reduces the number of clicks you'll make to access general functions like alignment, distribution, font formatting, inserting tables or shapes, etc.

I rarely use anything other than the toolbar unless it's some random function that I need for a particular piece of work. But for the most part, the common tools I use are all in the one section which speeds up my formatting by at least 20%. This can mean hours saved if you're constantly creating presentations for work.
There are similar productivity tools for PowerPoint out there like ToolsToo ($19.95) and Maurizio La Cava's Add-in ($57.97 per year) which will speed up your slide production, however 4MAT is absolutely free from my online store 🙂 All you need to do is follow the prompts and it will be sent straight to your inbox.
How to install it on your machine
This part is pretty simple so don't stress if you're not as tech savvy. Just follow the steps below:
0. Unzip the 4MAT Tool and save it in a place you can easily find
1. Open PowerPoint
2. Click File, then Options and then Customize Ribbon
3. On the bottom right of this window you will see the Import/Export drop down. Click the Import Customization File option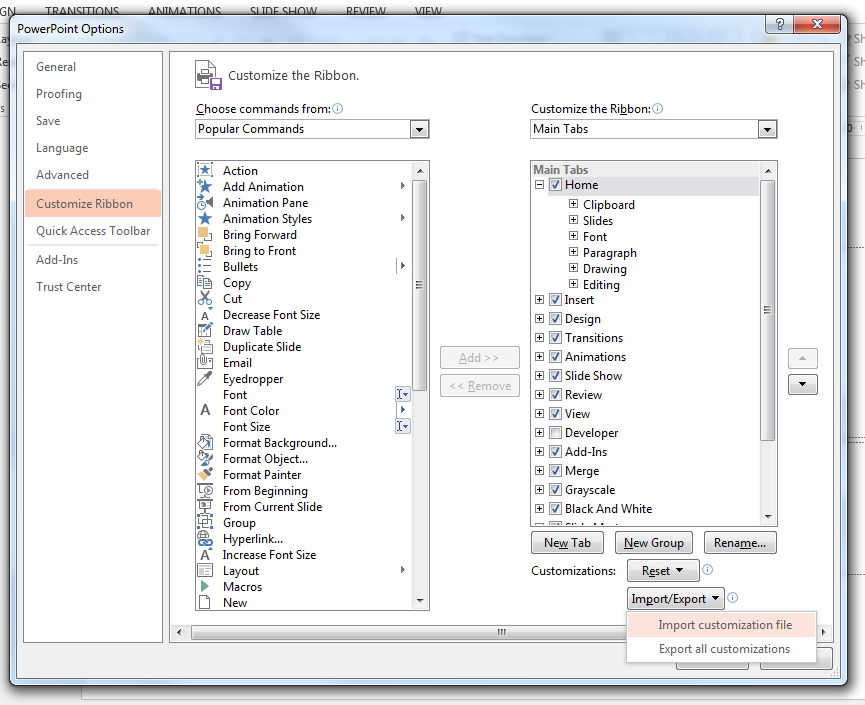 4. In the dialogue box, navigate to where you saved the 4MAT PowerPoint Tool file you just extracted from the zip file you downloaded and click Open
5. Click Yes, if it asks you to "Replace all existing Ribbon and Quick Access Toolbar customizations for this program?"

6. You'll see the 4MAT ribbon appear on your Main Tabs and in your ribbon
You are now good to go!
Be prepared for your colleagues starting rumours about your unnatural PowerPoint speed and then secretly worship your uncanny ability to have all objects perfectly aligned. No more hitting that right arrow key 75 times to nudge the picture you've imported to the centre of the slide.
That's all. It's pretty simple and the value of having these formatting tools in one space from a time, productivity and efficiency perspective can't be matched. If you eat, live and breathe PowerPoint, this tool is definitely for you.
Question: Do you have your own customized tab on the ribbon? What are the common formatting tools that you use when creating slides? Feel free to drop a comment below