It's Tuesday and time to discover how to make your presentations pop✨
We continue our series on presentation secrets from big tech companies with this week's focus on Google. Is there a formula for capturing that special ​'Googleyness'​ in a presentation?
Let's find out!
---
In this edition:
🎓 Learn: How to use Bento Layouts for cool summary slides
💻 Presentation Breakdown: Google's Keynote from Google I/O
💡 Idea: 3 key elements of communication
---
🎓 Learn: How to use Bento Layouts for cool summary slides
This grid style has a name!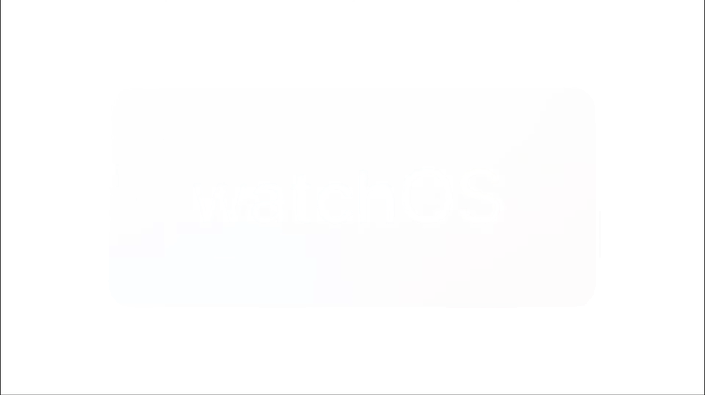 The tile-based layout ​made popular by Apple​ for their summary slides is known as Bento Layouts. These grids are great for summarising product features or key takeaways in a visual and easy-to-consume way.
Even Google was spotted using them in the presentation that we're unpacking later in this newsletter 👇👇👇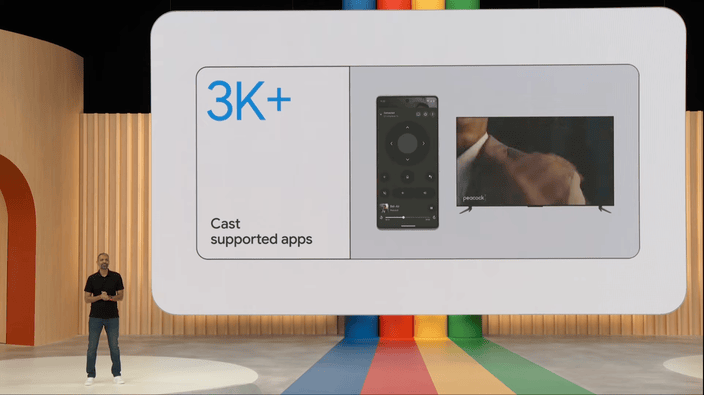 So how can you build something similar in PowerPoint?
How to:
When creating a Bento Layout, I like to keep things simple and follow these 3 steps:
Find layout inspiration and create the main structure from shapes to match the chosen template
Build each tile element which includes the shape colour, text and images or icons
Edit and rework the tiles to fit the layout
Step 1:
I'm no graphic designer, so I rarely start from a blank slide. I found ​this awesome site​ that has a collection of bento layouts that you can steal get inspired by
Take a screenshot of the layout you like and place it on your slide
Create shapes over the screenshot to match the arrangement and fit the template
Step 2:
Chose a colour for the tile background (in Apple's example above, they use a grey tile on their white slide template). You can go wild here and even add accent colours for some of the tiles to stand out
Set the text box size for the main callouts, by either adding an individual text box over each tile or by typing directly into the shape
Chose images or icons for each tile and begin populating your content
Group elements per tile and align to both the centre and/or middle of the tile. Your original template layout is a great guide for you on what can work
Make sure your spacing between tiles is consistent
Step 3:
It's usually at this point that you abandon the template and may need to reorder or rearrange the shape layout to match your content
Play around with different size combinations on the grid until you find something that works. It's this iterative step that creates something unique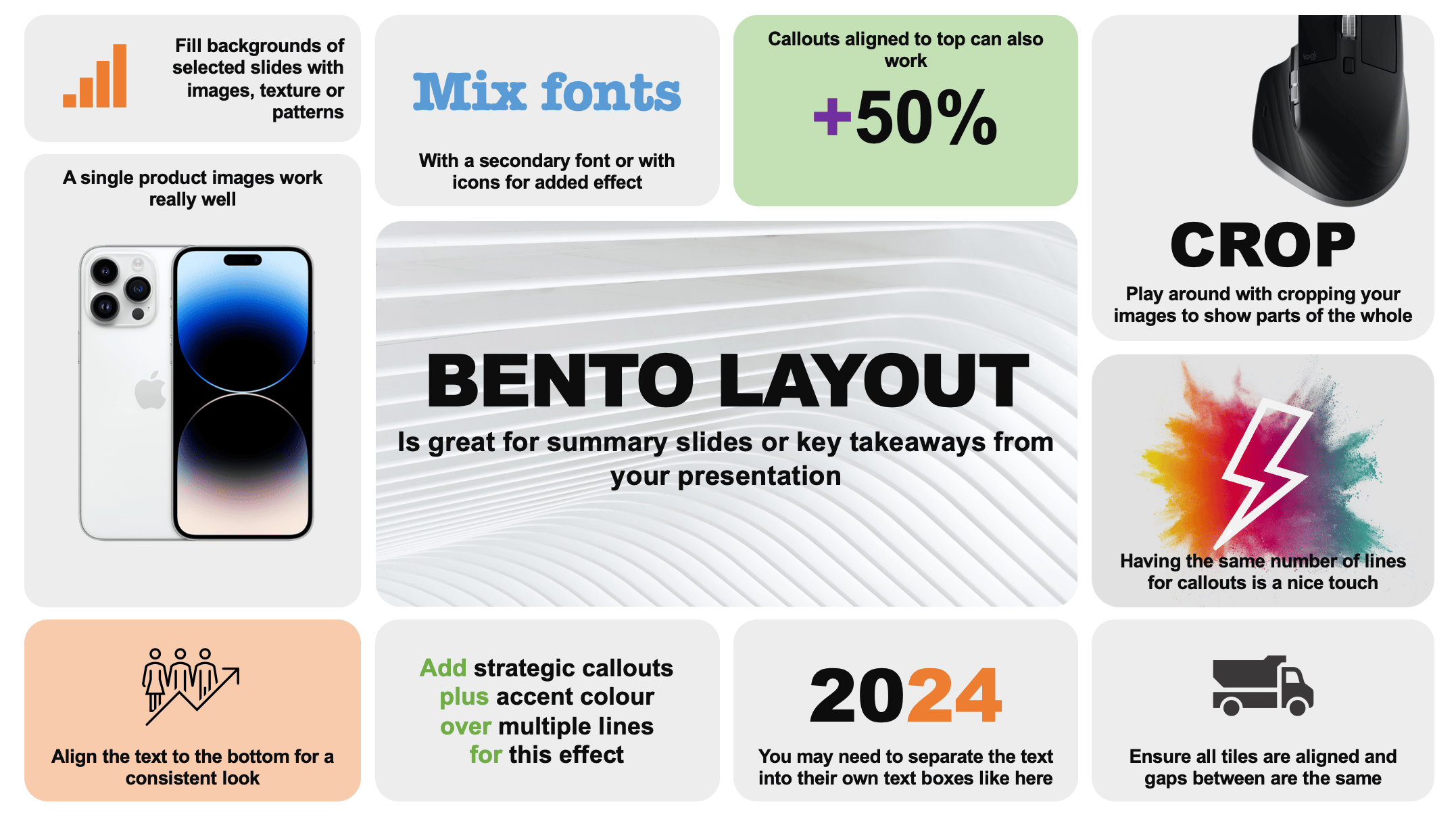 That's it! You now have a pretty slick slide to show off at your next big meeting.
Read the original post ​​here on the blog​​
---
💻 Presentation Breakdown: Google's Keynote from Google I/O
I have a secret…
I've always wanted to work at Google.
Maybe one day I'll apply.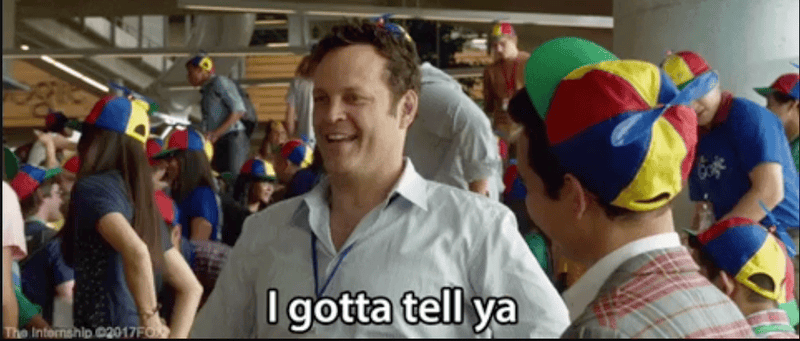 For now, I'm happy to gaze at my workplace crush from afar 😍
In the meantime, let's unpack the keynote from this year's Google I/O.
The I/O event (which kicked off on May 10, 2023) is Google's annual developer conference where they share their latest developer solutions, products, and technology.
What can we learn from this presentation?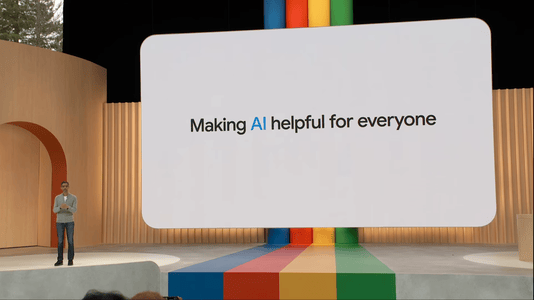 ℹ️ About:
Who: To an audience of Developers and Consumers
What: Google product updates and new launches
Where: Google's Mountain View Campus in California during the Google I/O annual developer conference
How: In-person presentation by Google team with slides, video and product demo segments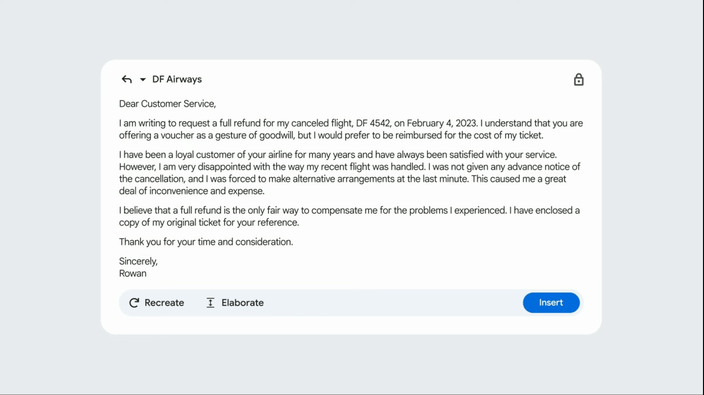 🏗️ Structure:
The keynote was split into 5 distinct sections (plus timestamps):
Introduction: by Sundar Pichai CEO (from 00:00:00 to 00:17:48)
Webapps (Bard, Workspaces and Search): by 3 speakers kicked off by Sissie Hsiao VP, Google Assistant & Bard (from 00:017:48 to 00:53:52)
Infrastructure (Cloud, Developers and Responsible AI): by 3 speakers kicked off by Thomas Kurian CEO, Google Cloud (from 00:53:52 to 01:19:20)
Mobile Devices (Android OS, Pixel Phones and Tablets): by 3 speakers kicked off by Sameer Samat VP, Android Ecosystem (from 01:19:20 to 02:03:30)
Conclusion: by Sundar Pichai CEO (from 02:03:30 to 02:05:19)

✅ Swipe: What worked
Get straight to it: Sundar Pichai did a quick welcome and went straight into how Google is bringing Generative AI ​into everything​. Those first few minutes were high-paced and were complimented by slides that changed every couple of seconds. Even subtle animations grab your attention and combine to make the first 17min whizz by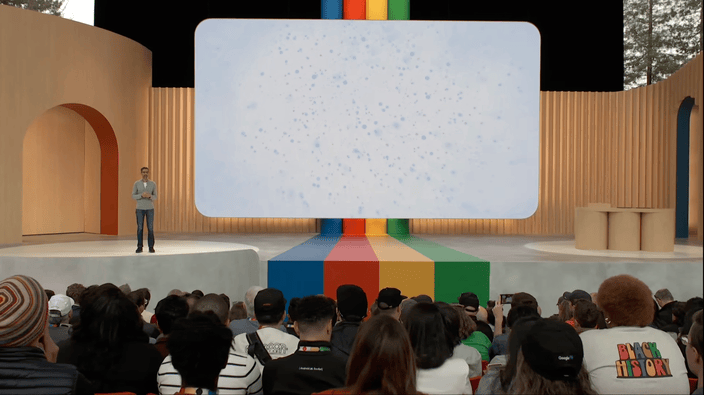 Consistent design: There were common design elements that you could see throughout. Rounded edges on all squares, images that run off the bottom or sides to give a scrolling feel. It allowed for enough variation, but still looked cohesive and like one presentation. Having a single design team brings this kind of continuity to life
Accessibility focus: A good presentation looks pretty and gets the message across. A great presentation is that plus accessibility focused. Simple slides with high contrast – the foundation of accessible slide design. There were also screens up on each side with a ​sign language interpreter​ and the ​presentation script​. I love seeing this at large events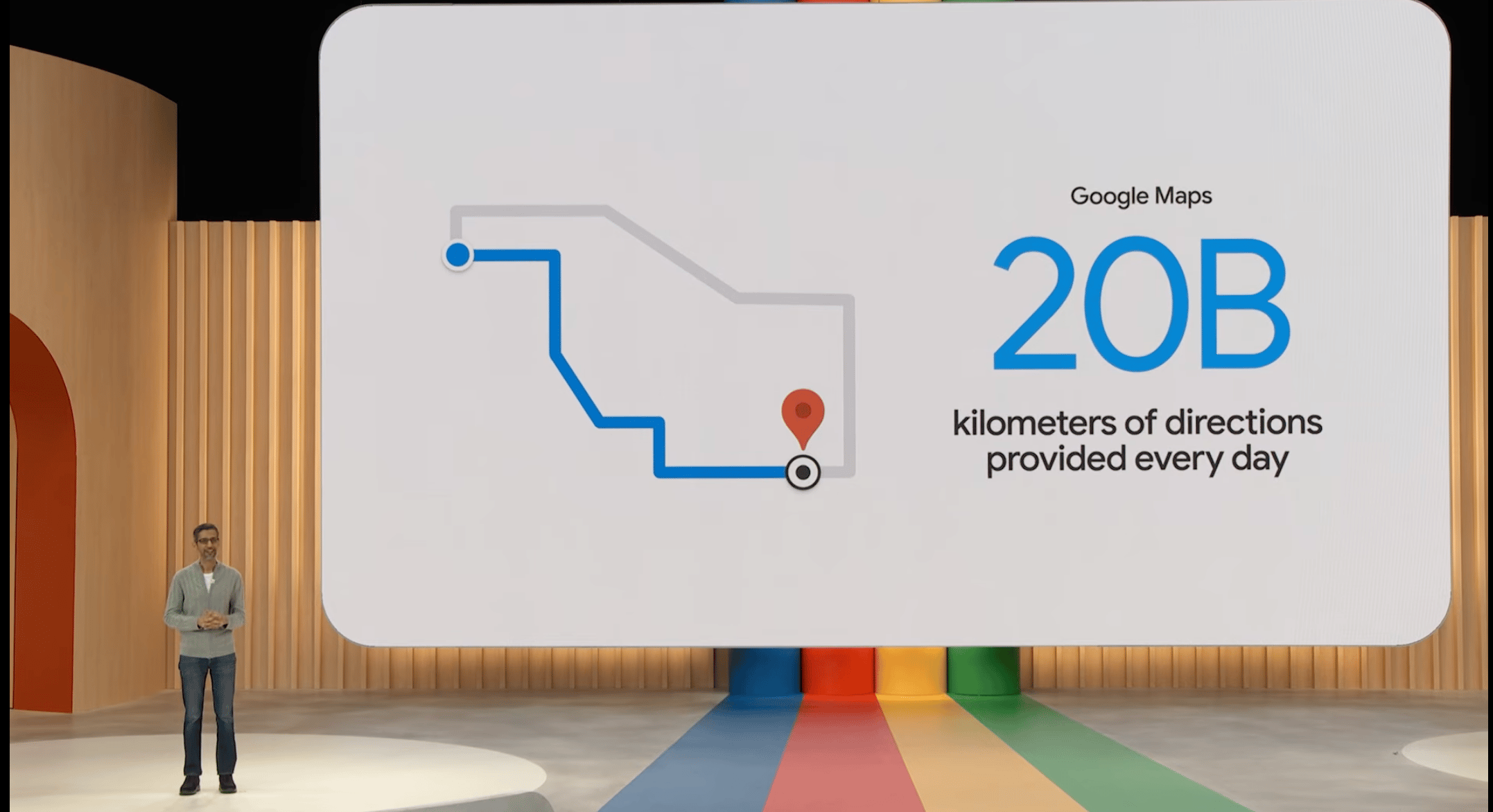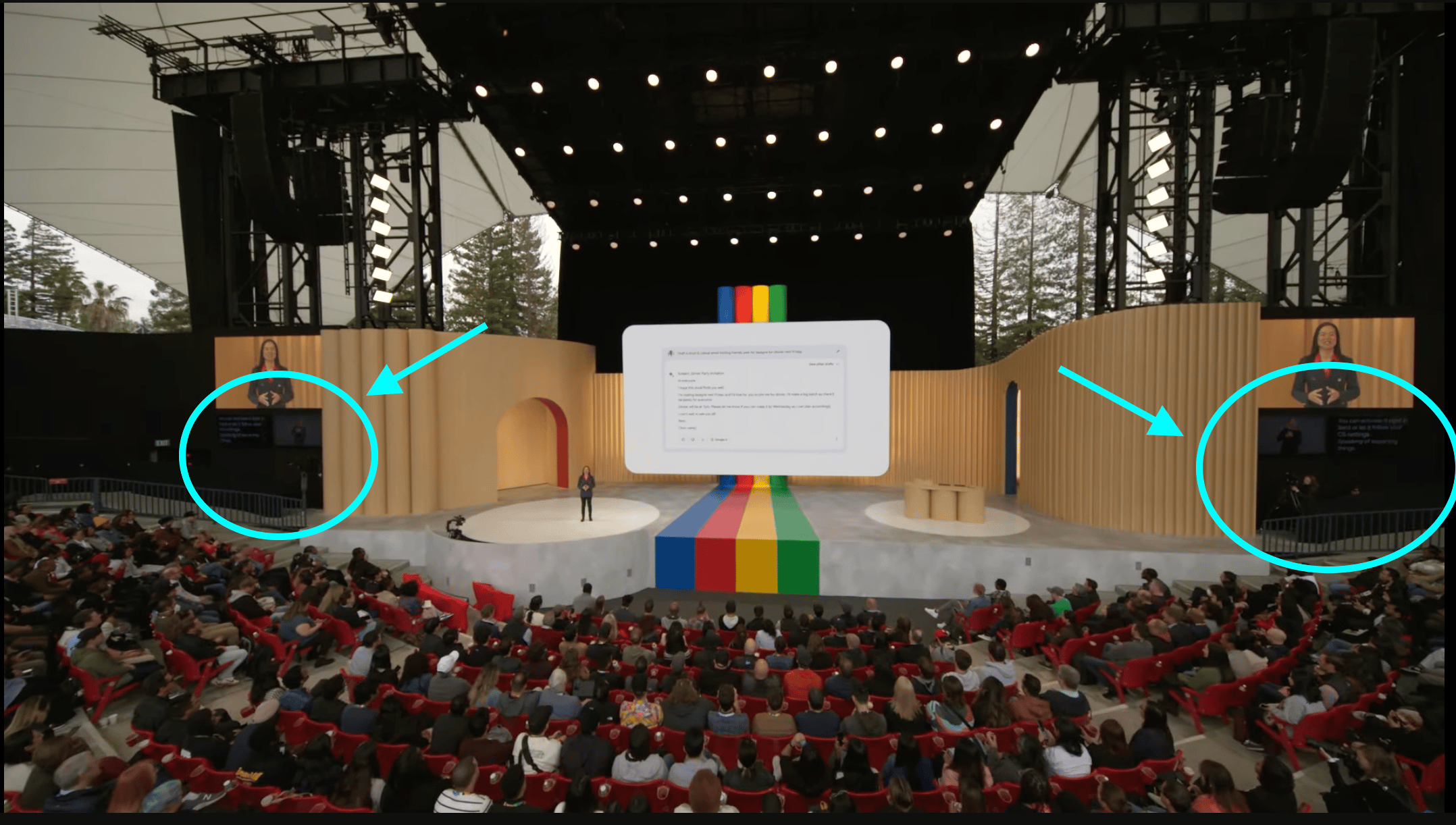 Here are a few more slides for inspiration: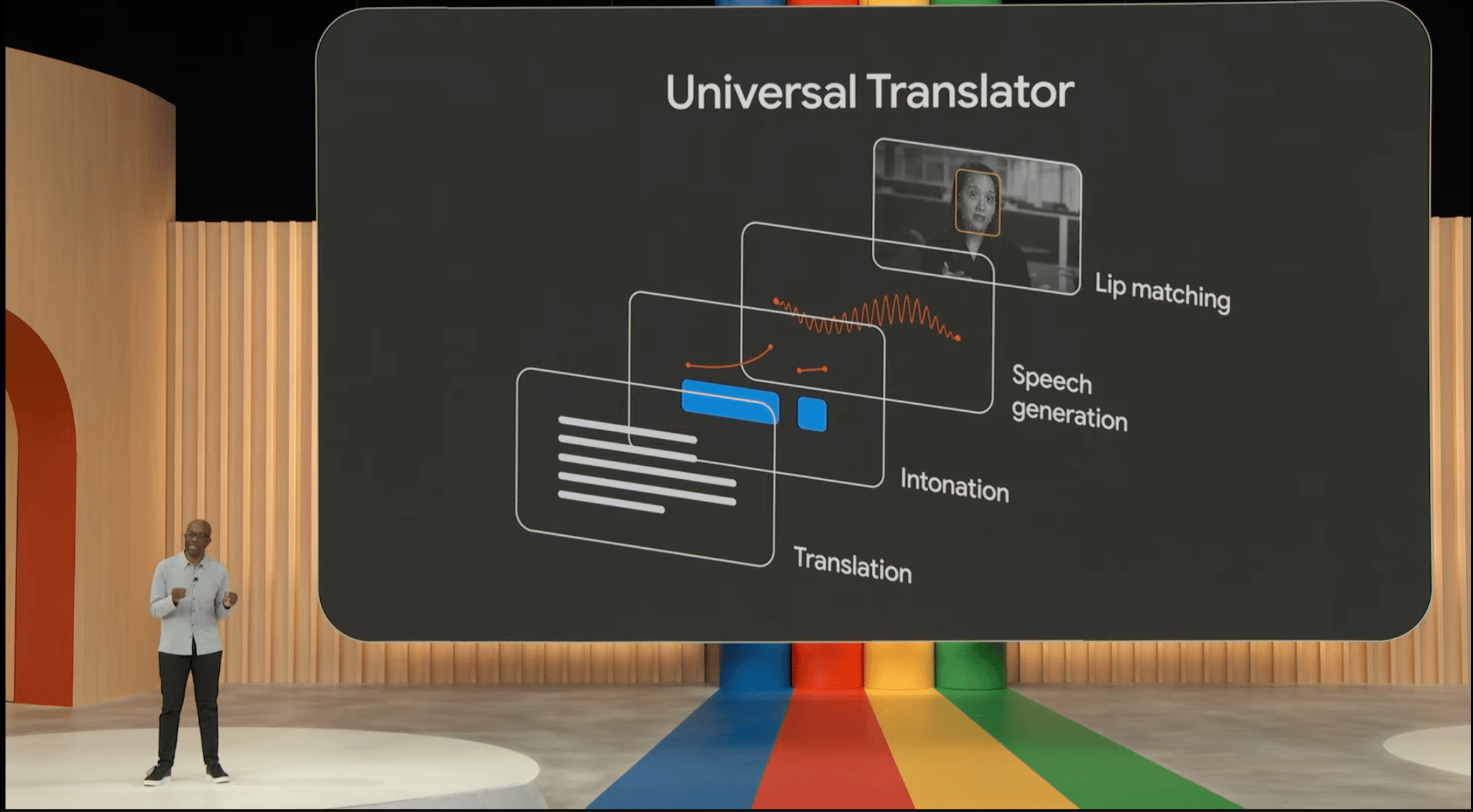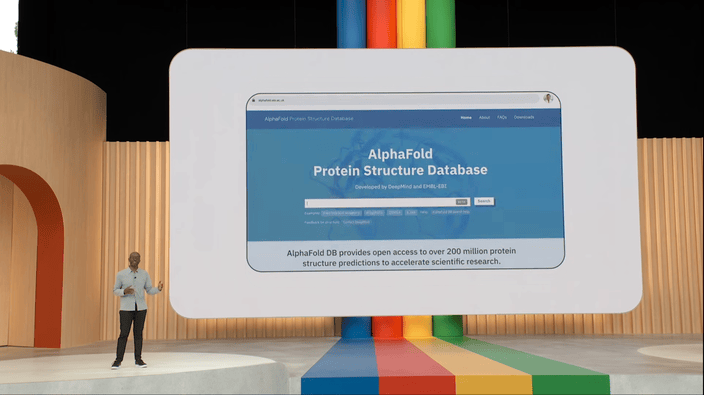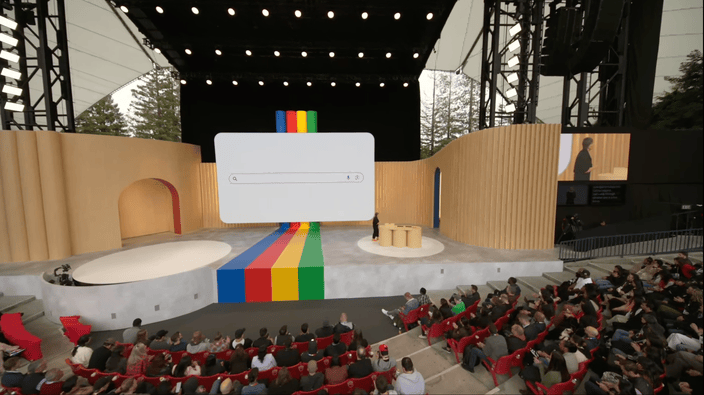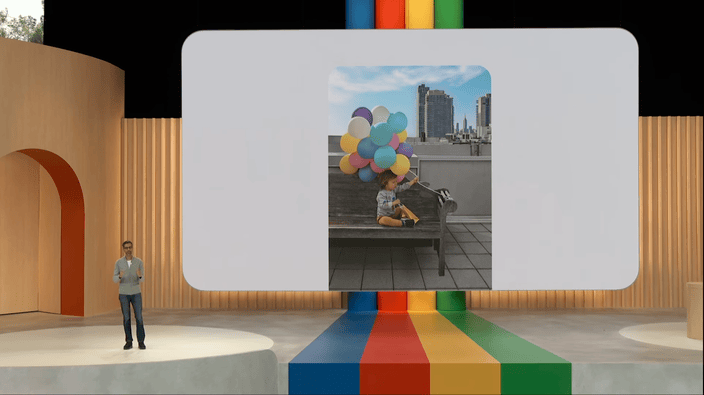 🙅 Dodge: What to avoid
AI AI AI AI AI AI: We get it. We wanted to know when Google was going to launch their AI offering and now regret asking. On the positive, the memes were hilarious, but ​this is my favourite​ 🤣
Low-energy speakers: Some speakers were great. But a few didn't have the best stage presence and it really lost energy along the way. It helps to add some body language to keep the audience engaged. Move your arms, smile and don't just stand in the same spot. A 2-hour presentation is asking a lot from the audience. Make sure that the tempo and energy are up 📈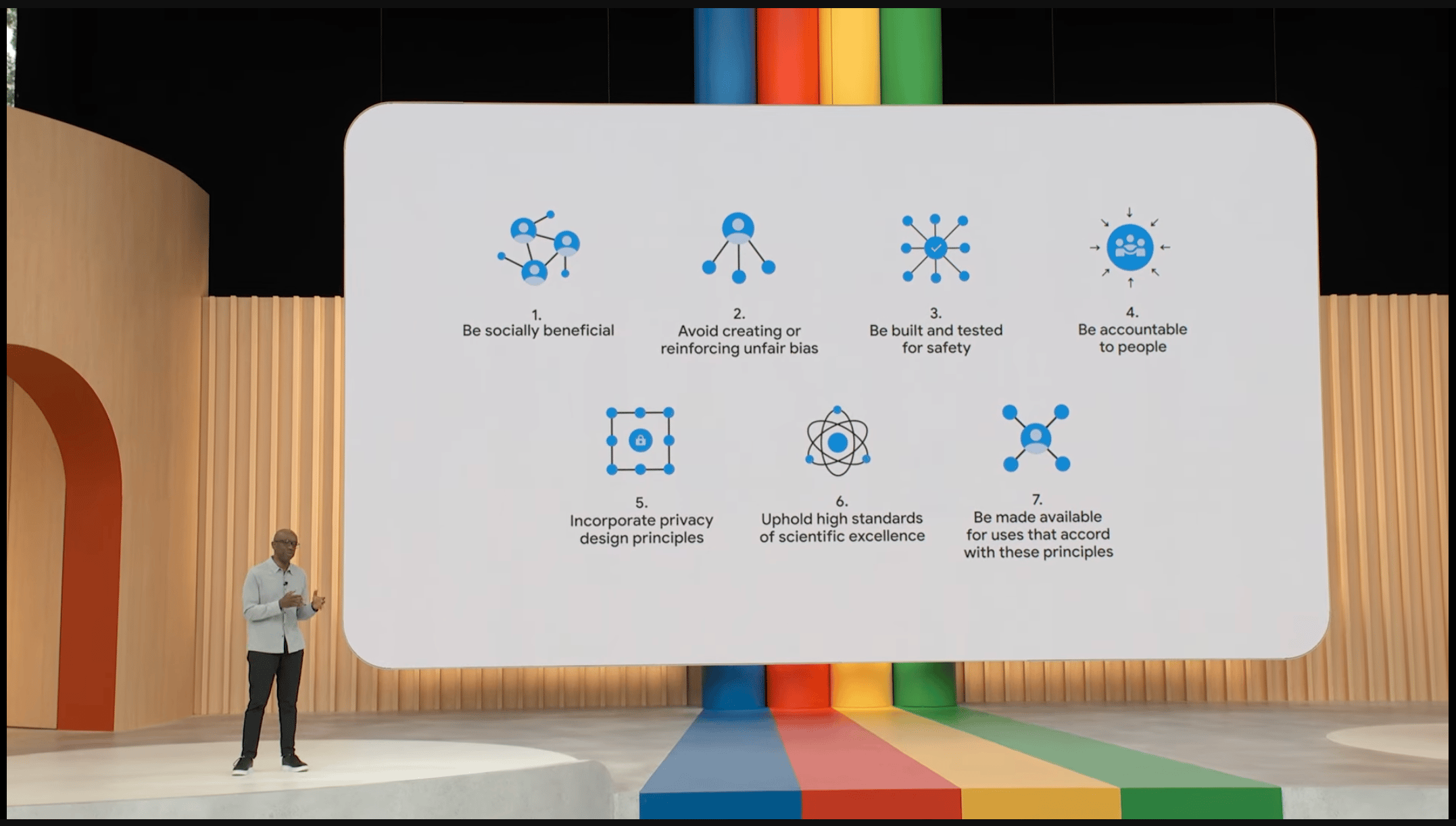 The most impressive thing for me is that this was a live presentation. It was pretty flawless, especially during product demos. There were a few points where the energy and tempo dropped, but this is probably one of the best live presentations you'll see from modern tech companies.
The AI race is firmly on. Many people asked, "Where is Google?" with the spotlight being on OpenAI and ChatGPT. In true Google fashion, this presentation shared products that are usable at scale, solve real user problems, and are not flashy (besides that folding phone 🤣). Just last weekend I fired up Bard to help while I'm learning to code in Python and the experience vs. ChatGPT was so much better.
There are some really interesting features that they are bringing to Google Slides and other productivity apps with the power of Generative AI. I can't wait to test these out.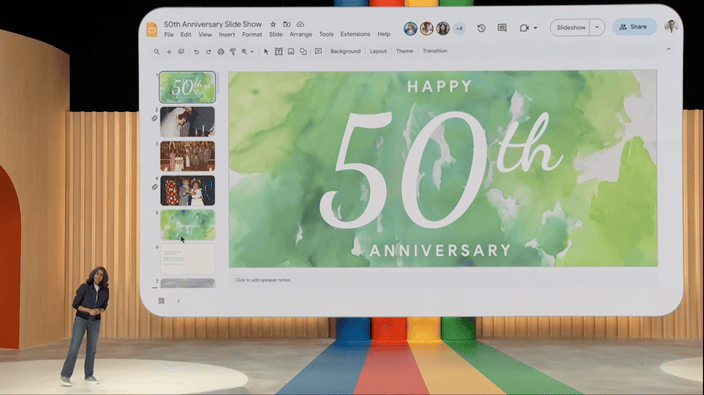 I've recently been studying keynote presentations by some of the largest companies in the world to pick out best practices that we can apply to our daily presentations at work. Let me know if there are any speakers you'd like to see featured
---
💡 Idea: 3 key elements of communication
I came across this image during an ​online course​ last week: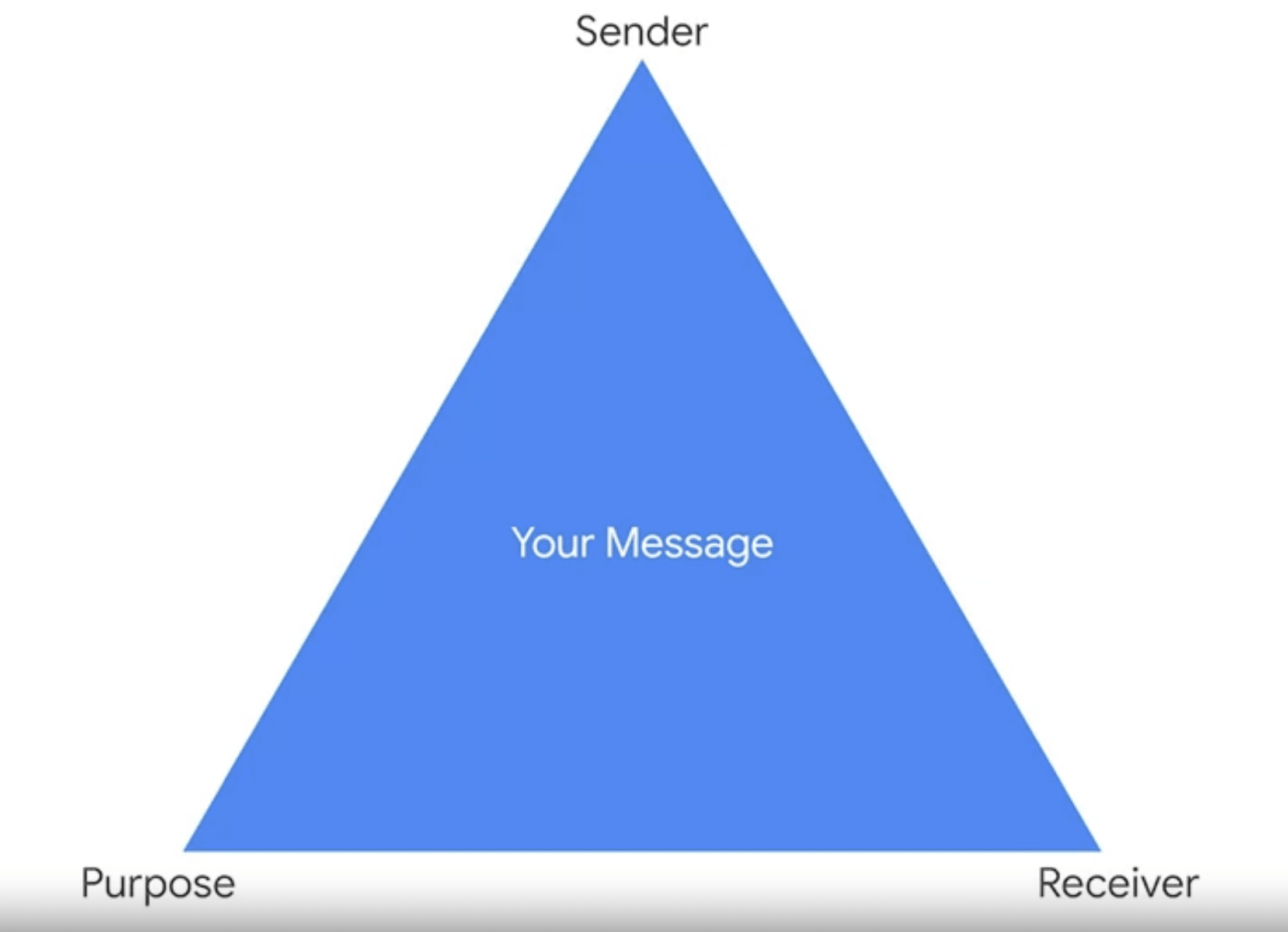 Here is an extract from the lecture:
"At the heart of the relationship between purpose, receiver and sender, is the message or communication that you intend to share… For this reason the same message might be shared in dramatically different ways….

The way they articulate the project pitch, structure, research, models and findings will change depending on whom they're talking to. With non-technical audiences, they're much less likely to focus on details about the code used to program the model and instead, they'll focus on the impact of the project…

…In both cases, the overall message exchanged, that is, information about the project was the same. How it was crafted, the details included and the way the information was organized, that's what was different."
I love how simple this image is and how it captures the importance of tailoring your presentation to the audience.
Sometimes we re-use the same slides over and over. I have been guilty of this.
Sure, it's convenient. But chances are you're giving up the one chance you have to land your message in the best way possible.
Tailor your talk to the audience and they will be more likely to take action.
---
How can I make this newsletter your favourite email? Let me know with a reply and I promise to respond.
That's all folks. Edition #03 done.
✌️ + ppt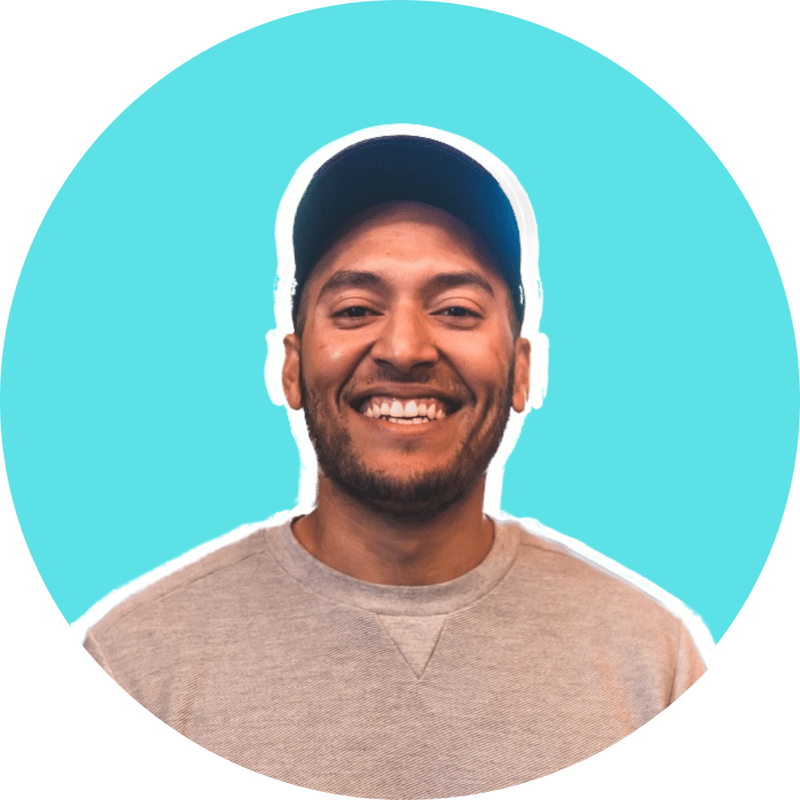 Fareed.
Say hi on ​Twitter​ or ​LinkedIn
Did you enjoy this edition?
Join 200+ ambitious professionals reading my newsletter. Subscribe and get practical tips every Tuesday to level up how you share ideas at work💡